"Let us know how we are doing!"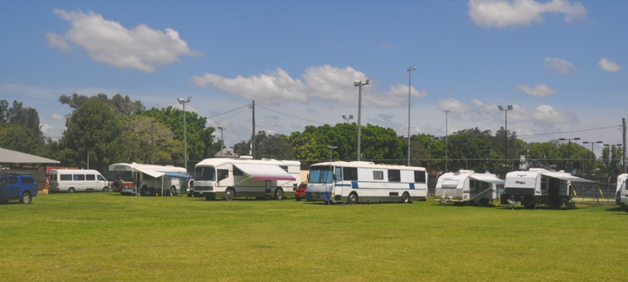 About Grafton Showground Camping
Grafton Showground operates under a Primitive Camp Ground Licence and offers basic shower, toilet and laundry facilities for short-stay campers.

➕ Spacious grounds with a choice of powered or unpowered sites
➕ Budget price camping for up to 21 days
Location Location Location
➕ In the heart of Grafton, within walking distance of most facilities
➕ 1 block from Aldi Supermarket
➕ 2 blocks from the CBD—shops, cafes, restaurants, movie theatre
➕ 2 blocks from Grafton District Services Club http://www.gdsc.com.au
➕ 3 blocks to King Street Mall (Coles) & Grafton Shoppingworld Woolworths, Coles, Big W)
➕ Walking Distance to the magnificent Clarence River
➕ Walking Distance Grafton Regional Art Gallery https://www.graftongallery.nsw.gov.au
Clarence River Historical
Society's Schaeffer House http://www.clarencehistory.org.au/
➕ Walking Distance to Grafton Racecourse (Clarence River Jockey Club) www.crjc.com.au/ Grafton
"Let us know how we are doing!"
Feedback Form – your feedback is greatly appreciated!
---
GRAFTON SHOWGROUND CAMPING FEES
From December 1st 2023 our camping fees will increase due to the increase in Utility charges for the grounds.
➕ Caravans – (2 persons) $30 per night/$180 per week
➕ Tents (2 persons) $30 per night / $180 per week
➕ Extra persons $5 per person per night
➕ Maximum of 21 night's stay
➕ All sites have power and water
➕ Dogs allowed, but must be kept tied up or on a leash at all times and all mess must be cleaned up and disposed of correctly
➕ For all camping enquiries please phone Russel on 0468 482 919.      
STABLING FEES
➕ Stables/covered yards $10 per night / $50 per week
CAMPERS RULES AND CODE OF CONDUCT
Grafton Showground is set aside for the use and enjoyment of the people of NSW. All campers are required to comply with the Code of Conduct to ensure the peaceful amenity of the reserve is preserved for all to enjoy.
Please camp within camping areas as instructed.
Showground speed limit 10 km/h
Caravans & annexes must maintain a minimum distance of 6 metres from each other
Tents must be a minimum of 3 metres from each other and 6 metres from any caravan/annexe
All campsites to be kept tidy
Rubbish to be placed in receptacles provided. Excessive rubbish will incur a charge
Noise, including radios or loud music, must be kept to a minimum, particularly after 9.30 pm
No open fires are allowed within the reserve
Children to be accompanied by an adult when using amenities
Amenities to be left clean & tidy
No pets are allowed inside the amenities
Pets are to be on lead at all times when on the grounds
Pet droppings must be picked up and placed in bins provided
Do not obstruct access to the reserve or hinder legal access along internal roads
A person can camp for no more than 21 days
All camp sites must be attended with absences not to exceed 24 hours
All buildings, other structures and trees on Grafton Showground are listed as heritage items under Schedule 5 of Clarence Valley Local Environmental Plan 2011 and no changes are to be made to those buildings, structures and trees by the Licensee without the prior approval of the Licensor.
For the benefit of campers, the following have a ZERO TOLERANCE POLICY that may result in immediate eviction – no warning, no refund:
Anti-social behaviour towards other campers
Stealing from other campers
Abusive language and swearing
Excessive drinking of alcohol and illegal drug use
Undue noise and behaviour after 9.30pm
Damage of any kind to park property and facilities
Gathering of more than six people on any one site without prior arrangement
Not accepting instructions from park management
---