Applications are now open for the 2023 Young Woman, Junior Showgirl, Tween Showgirl, Man of the Land and Boy of the Barn Competitions
For all enquiries and application packages, please contact our Co-Ordinator Carmell Sanne on 66427309 during business hours or the Show Office on 66422240
Completed applications can be emailed to secretary@graftonshow.com.au & can also be handed personally to the Show Office during Office Hours Wednesday and Friday 9.00am to 3.00pm and also to the Hope Chest, Prince Street, Grafton during Business Hours.
The aim of the Grafton Young Woman Competition is to find a person to represent the Clarence Valley and the young women of NSW.
Our successful Grafton Young Woman will represent Clarence Pastoral & Agricultural Society at the Zone 1 Final, and if successful, will contest the NSW State level of The Land Sydney Royal Showgirl Competition.
Candidates will be required to attend an official Meet & Greet and judging prior to the show.
Judging will be based on personality, confidence, ambition and life goals, general and local rural knowledge, presentation and speech.
Grafton Young Woman Competition will be announced during the Grand Parade and Official Opening of the 2023 Grafton Show.
Grafton Young Woman winner will be entitled to sponsorship of cash awards, and a range of locally sponsored goods.
Grafton entrants in the Young Woman Competition are eligible to enter for two years only.
Entrants who have been placegetters in the State Finals are not eligible to re-enter.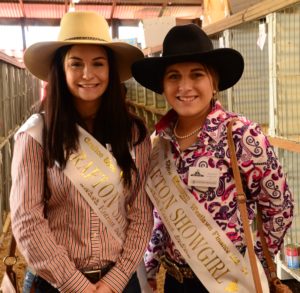 THE LAND SYDNEY ROYAL SHOWGIRL COMPETITION 2023 CONDITIONS AND GUIDELINES
Entrants must be women aged from 18 to under 24 years as at 1st May, 2023.
The Competition is open to those who are permanent residents of Australia.
Entrants must reside, be educated, or work within NSW for at least 3 months prior to their local Showgirl Competition to qualify to compete within the State.
Only candidates nominated by an Agricultural Show Society are eligible for Zone & State Final judging.
Previous entrants in the Showgirl Competition are eligible to enter, however, they are not to have been one of the first, second or third placegetters in a previous State Final.
The following individuals are not eligible to enter the Showgirl Competition:

Staff, Directors and Councilors of both the Royal Agricultural Society of NSW (RAS) and Agricultural Societies Council of NSW (ASC)
Daughters of the Staff, Directors and Councilors of the RAS and ASC
Current Rural Achievers applicants for the 2023 Sydney Royal Show

Winning entrants who are employed or engaged in full time studies will be required to obtain a leave of absence to attend Zone and State Final Judging.
All entrants are to abide by the Showgirls' Code of Conduct as set out by the RAS and the ASC when acting as an ambassador for the RAS, ASC or their local Show Society.

♦ Judging Sat 1st April 2023
♦ Afternoon Tea – South Grafton Bowling Club – 2pm
♦ Showgirl Announced Friday Night 6pm.
♦ Girls will be introduced to crowd at the Saturday Show Opening.
♦ Entries close 25th March 2023
Refer enquiries to Carmell Sanne, The Hope Chest, 0266427309